'Sinterklaas' (Saint Nicholas) is a typical Dutch character loved by children and adults. He is accompanied by his white horse Amerigo and a team of Pieten.
Their annual arrival and parade in Amsterdam mid-November and the festivities until Sinterklaas (poem & gift-giving) evening on 5 December are a true happening. Come and experience it yourself!
Sinterklaas traditions
Lay your shoe & sing songs with the family!
Once Sint is in town, children lay out their shoe before bedtime around 1-2 times per week. They can put letters and wish-lists to Sinterklaas in their shoe, hoping that there will be a little gift left there by morning. Traditionally the shoe is put in front of a chimney. Along the shoe kids have water and a carrot or apple for the horse.
Kids and their parents usually sing 2 or 3 songs together to get Piet's attention. See YOUTUBE for examples and text.
Kids are usually rewarded with candies like chocolate letters and pepernoten, a small toy or gift or even a letter back from Sinterklaas brought by a Piet who climbes over the roofs at night and enters the house through the chimney (or the door with a secret key)! Off course Piet takes the drawings, letters and carrots with him.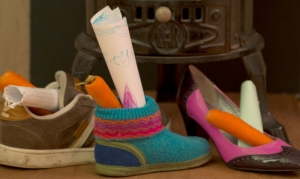 Poems, self-made surprises and gift-giving on 5 December
Although the feast of Saint Nicholas falls on 6 December, the evening of 5 December is the main gift-giving occasion. Called 'sinterklaasavond' (Sinterklaas evening) or 'pakjesavond' (presents evening), Sint drops off a sack full of gifts on the doorstep before heading back to Spain on December 6.
Other than with Christmas, the gifts from Sinterklaas are accompanied with poems and/or self-made 'surprises'!
One by one the presents are unwrapped after reading the poem aloud that have been written especially for each recipient. The author of these light-hearted or year-evaluating poems remains anonymous. The day ends with songs and treats like marzipan, chocolate letters, pepernoten (spice biscuits) and hot chocolate with whipped cream
The legend of Sinterklaas
Saint Nicholas has had close ties with Amsterdam since 343 AD. Legend has is that Sinterklaas originally came from modern-day Turkey as St. Nicholas, the Bishop of Mira, an honorable man who was kind to children. No one really knows why he then chose to live in Spain but historians point to the Spanish domination over the Netherlands in the past.
The medieval attire of Sinterklaas' assistants, the Pieten, is equally mysterious, leading one to conclude that they must have been stuck in chimneys for an awfully long time. Hence the sooty faces and time-warped costumes.
'Piet' is currently subject of debate in Amsterdam and the rest of the Netherlands. The City of Amsterdam is actively facilitating this discussion and is keen to remain in close contact with all concerned parties.
Text inspired on source: http://www.iamsterdam.com/
Program Sinterklaas Arrival Parade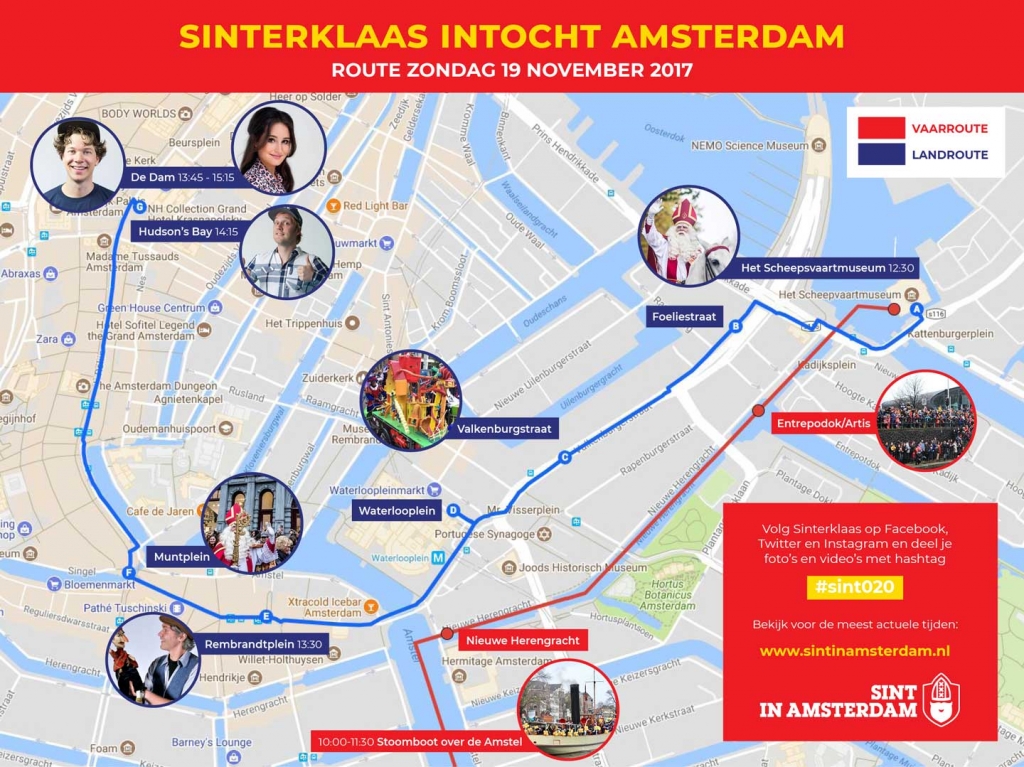 Come and meet Sinterklaas, his horse Amerigo and over 400 "Pieten" during his arrival in Amsterdam on Sunday November 19.
Arrival Stoomboot 10:00-11:30

| Amstel River from De Omval to Scheepvaartmuseum

Grand Parade 12:00-14:00

 | Parade from Scheepvaartmuseum over Waterlooplein, Rembrandtplein towards Dam Square

Extra music and entertainment events

| @Scheepvaartmuseum, @Rembrandtplein and @De Dam
See details below.
Arrival Stoomboot 10:00-11:30 | Amstel River from De Omval to Scheepvaartmuseum
With more than a kilometer of floats and boats, Amsterdam hosts the largest Saint Nicholas parade in the world. Sinterklaas sails into town with 400 Pieten and plenty of pepernoten (small spiced biscuits), welcomed by 400,000 spectators lining the canals.
Sinterklaas traditionally makes his spectacular entrance into the city by sailing down the Amstel River and following a route through the city past the Nieuwe Amstelbrug, Torontobrug, the Hoge Sluis by the Royal Theatre Carré (around 11:00 o'clock) and the Magere Brug. The waterborne parade ends at the Scheepvaartmuseum (Maritime Museum) where Sint is welcomed by the Mayor of Amsterdam.
Grand Parade 12:00-14:00 | Parade from Scheepvaartmuseum over Waterlooplein, Rembrandtplein towards Dam Square
Sinterklaas then trades his boat for his white horse Amerigo, and the parade continues through the streets. Admire them and over 400 supportive Pieten on strange bikes, skates or dancing in a very remarkable Parade with DJ Pieten, a Pepernoot-Factory on Wheels, Rembrandt painting "chimney" Pieten and a lot more! Offcourse the Pieten make a lot of music and throw cookies and candy to the thousands of spectators.
——–
PRESS INFORMATION
Press statement Foundation Sinterklaas in Amsterdam (SSIA)
Amsterdam, November 7th, 2017.
Let's stop the discussion about black petes in Amsterdam. 
The assistants of Sinterklaas, the so-called Petes are getting new costumes and wigs.
SSIA introduces new costumes and wigs for the assistants of Sinterklaas at the arrival of Sinterklaas Sunday, November 19, 2017. These costumes are based on 16th-century models of Spanish noblemen. "This is the final part of the Pietendiscussion in Amsterdam," says the chairwoman of the petes, Anouk Rees. "In 2014, we introduced the chimney pete. This year, all 350 petes are wearing a new costume and new wigs. The transformation has therefore been completed. " Colleague-chairman Midas Meester, in the daily life theater maker, adds: "This has been a process of a few years. In 2015 we started the design. For hundreds of hours, Ineke van Berge, former assistant of Frank Govers, and I worked to create a new model. We wanted a traditional model, as a counterpart to the renewal in the face. And it worked." Hans Bakker, Production Coordinator on behalf of Sinterklaas, says: "We invested in tradition. The design is based on Spanish 16th century nobility. For this reason, dozens of paintings, etching and drawings have been taken into consideration to get an idea of how our new costume really had to look like. 
For photo's, please press this link (free of copyrights)
Note for editors: For further information, please contact:
Pam Evenhuis, spokesperson of Sinterklaas Phone: +31.641.878.111 or spokesperson@sintinamsterdam.nl